Here's what the Rich Cho era's taught us thus far:
1. Full on tanking only works if you absolutely NAIL the Lottery.
The easy part is when Kevin Durant falls into your lap. The challenge is in the mid-Lottery and late rounds, where you find and groom a Russell Westbrook or Serge Ibaka. Charlotte hasn't done that.
2. Full on tanking without NAILING the Lottery = Toxic Reputation = Lost Opportunities.
Think Brian Shaw would've been a better coach than Mike Dunlap? Think James Harden is a slightly better player than MKG? These two missed opportunities are the direct result of the team's lowly reputation. Desirable free agents, scouts and executives aren't going to risk their careers in a situation doomed for failure.
Dispelling the Myth
"But we have to be bad to get good!!!" Eh, not exactly. Bottoming out for a year can sometimes work in a Duncan or Lebron Once-In-A-Generation Lottery but good organizations can find and develop guys like Roy Hibbert, Nicholas Batum, Paul Milsap and Ty Lawson late in the first round. "But we want to build a championship team, not a mediocre one!" Newsflash: Only eight franchises have hoisted a Larry O'Brien since 1984, averaging out to a "new" champion every 3.75 years. At this rate, the Queen City can plan on throwing a parade sometime after June 2095. In the meantime, the Bobcats/future Hornets should strive for the more modest goal of being consistently competitive. With name-brand free agents and coaches refusing to lower themselves to the Bobcats current level, maybe we should be saying "You have to be relevant to have a chance at being good" instead.
Two Assumptions
Before I begin the shameless public rosterbating, let's set the ground rules.

1. The 2013 NBA Draft is superstar-free. Like all drafts, there's probably a couple of All-Stars tucked away but the mass consensus is that there is no instant franchise changer this year.
2. Big name free agents won't sign with the Bobcats unless they SEVERELY OVERPAY them. The team will have up to $20m in cap space with little to no chance of signing anyone that matters. Again, if you're a name free agent and the money was equal (or even slightly better) why on earth would you put yourself in a potentially miserable situation?
So the Bobcats will enter the offseason with $20 million that nobody (of substance) wants and a Top 4 pick in a Draft with no superstars. How in the heck are they supposed to improve?
---
Bobcats Baseline Presents: Rosterpalooza '13 – Version 1.0
Part I: The Draft
With the worst record in the league, the Cats are guaranteed to pick in the Top 4. The good news is that there are a few potential All-Stars (Marcus Smart, Ben McLemore, Nerlens Noel) and a few good starters (Otto Porter, Alex Len, Victor Oladipo), all guaranteed to be there when Charlotte picks. The bad news is that players like Porter and Noel basically duplicate what Charlotte already has in MKG/Biyombo so the organization better pray they score in the top two. For Rosterpalooza 1.0, we're going to assume they pick 1 or 2.
The Case for Marcus Smart.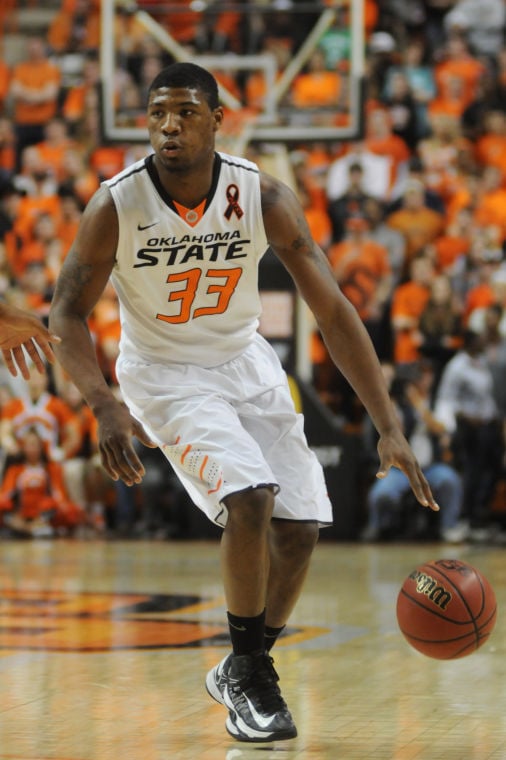 At one end of the Draft's risk spectrum sits Noel, a seven footer with no real basketball skills coming off a major knee injury; at the other end a 6'4″, 225 pound, 19 year old point guard/artillery vehicle: Marcus Smart combines Russell Westbrook's intensity and explosion with James Harden's strength and handle, he has the potential to be an All-world combo guard in a league that caters to All-world combo guards. Like Westbrook coming out of UCLA, Smart's shooting and court vision need work – which you can teach. What you CAN'T teach is Smart's aggressiveness and size. He'll figure the rest out. You can play him alongside Kemba Walker at the beginning and eventually transition Kemba to his perfect role of 3rd guard/6th man/Closer once Smart gets comfortable running the team. Boom. That's a hell of a one-two punch.
The Case for Ben McLemore.
Imagine Ben Gordon if he were 6'5″, incredibly long and a plus defender. That's Ben McLemore. He's not going to put the ball on the floor and create but as a catch and shoot Ray Allen type, McLemore will open up driving lanes for Kemba and MKG, bust zones and double teams and roll off screens for set plays. AKA: all things Charlotte desperately needs.
VERDICT: McLemore's elite skill (shooting) make him the slightly safer pick and yes, the Bobcats certainly could use some floor spacers but consider this: spot-up shooting is relatively cheap and fairly abundant – skip down to the free agent shooters list below to have a look – you don't need to spend the 1st or 2nd overall pick in the draft on it. Most of all, Marcus Smart's size and position could be franchise-defining. He could legitmately be the Westbrook of the Eastern Conference. You can't pass up that opportunity. If he's on the board, pick Marcus Smart.

RESULT: Charlotte drafts Marcus Smart, G Oklahoma State.
---
Part II: Trades
What's the best way to fill up $20 million in cap space with quality players who wouldn't sign with you otherwise??? Why, trading for them against their will, of course. But first, a little housekeeping…
Amnesty Tyrus Thomas.
Like Thomas himself, this move is a no brainer – and also a litmus test. If the Cats don't amnesty T-Time, we know that Michael Jordan isn't serious about the team – which would work out just fine for us, we can all check out and follow the Heat, Celtics or Lakers like most NBA fans in Charlotte. That said, I fully expect Tyrus to be gone at the soonest possible moment. And to that I say, good riddance.
Trade Ben Gordon to Chicago for Carlos Boozer (and a little something extra).
A salary dump for the Bulls, shedding Boozer's deal gives them big cap space next July to re-sign Luol Deng or another near max player. Even if Chicago refused to give Charlotte's 1st round pick back outright, perhaps they'd be willing to tighten the restrictions to virtually guarantee the Bulls would never receive it in the Lottery. That may seem like small compensation for taking on Boozer's final two years/$30 million but consider that:
A. The first year is only $2 million more than the Cats would have to pay Gordon anyway – a guy who has attempted to sabotage the lockerroom along with half the games he's checked into AND…
B. Boozer's skill set and position are exactly what Charlotte needs: rebounding and post scoring. Think of it this way, would you rather pay Al Jefferson $60 million over 4 years AND pay Gordon $13 million next season OR only pay Boozer $30 million over two? Not to mention that Boozer's contract expires the very same July the Cats will need to re-sign Walker. Did I mention Boozer instantly becomes the best Power Forward in Bobcats history?

RESULT: Charlotte acquires PF Carlos Boozer via trade.
Trade Portland's First Round Pick to OKC for Kendrick Perkins and Jeremy Lamb.
Perkins is a one-dimensional player overpaid by at least 40% and with the Thunder approaching the tax line, his final two years, $17.5 million will need to go. So why are the Bobcats giving up a first round pick to take him on?
For one, Perk would help bring some real interior defense (as opposed to "defensive potential" defense) to a team that desperately needs to get better on that side of the ball. Again, his contract is perfectly timed with Bismack Biyombo's extension so the team could make their decision after Biz learns a thing or two apprenticing under Kendrick (first lesson: "defense" is more than just trying to block every shot).
But the real prize here is Lamb. Charlotte gets a Ben McLemore without having to draft one. Long and rangy, Kemba's former UCONN teammate, has vast defensive potential and can score off the dribble or in the mid-range game. Acquiring Lamb would allow Charlotte to let Gerald Henderson walk, replacing Hendo at around 1/6th the cost.
It's a deal that nets the team two quality starters and all they have to give up is a mid-round pick and cap space nobody wants. Win-win.

RESULT: Charlotte acquires C Kendrick Perkins, SG Jeremy Lamb via trade.
---
Part III: Free Agency
Quick roster assessment after the moves:
Guards: Ramon Sessions, Kemba Walker, Marcus Smart, Jeremy Lamb
Wings: MKG, Jeffrey Taylor
Power Forwards: Carlos Boozer
Centers: Kendrick Perkins, Bismack Biyombo, Brendan Haywood
There's an obvious need for depth at Power Forward and you'd love to have a long distance shooter at the SF spot, thus…
Sign a Shooter.
Free Agent Gunners Available this Summer: Kevin Martin, JR Smith, Rip Hamilton, Kyle Korver, Anthony Morrow, Nick Young, Carlos Delfino, Martell Webster and… RAY ALLEN HIMSELF! Who needs "the next Ray Allen" when you can get the original at a discount.
THIS IS ANOTHER REASON WHY YOU DON'T DRAFT BEN MCLEMORE!
All these guys can absolutely light it up from beyond the arc, all will be available in July and a few will come dirt cheap. Of the bargain gunners, I like Delfino. He's 31 and probably has another season or two of quality game left. Carlos gives the team another ball handler who can play either wing positions and is an underrated defender who can absolutely stroke the 3-ball when he gets hot. He signed a one year $3 million deal with Houston last July, so another one year, $3.75 million overpay from Charlotte will probably get it done.

RESULT: Charlotte signs G/SF Carlos Delfino.
PF Depth.
Byron Mullens or Josh McRoberts? Do we even need to have this conversation? Josh McRoberts has been a perfect fit since his arrival. His abilities as a ball handler, floor spacer and playmaker have vaulted the former Dukie from the end of Orlando's bench to Charlotte's starting five. Two years, $7m should do the trick and you could even go three if the team was sold on him as their Nick Collison – Josh is amazingly only 26 years old.

RESULT: Charlotte re-signs PF/C Josh McRoberts.
Let's Roster-Assess Once More:
Guards: Walker, Sessions, Smart, Lamb
Wings: MKG, Delfino, Taylor
PF: Boozer, McRoberts
C: Perkins, Biyombo, Haywood
That's a quality 12 man roster that, depending on the young players' development, could certainly challenge for a Playoff spot in the East and could be one of the Conference's best teams for a decade. Check out the salary structure:
In July of 2015, Charlotte could have up to $30 million in cap room. Some of the money will go towards re-signing Kemba but the team will have enough prospects and wins under their belt to lure the big name, max-players that they can't today.
In the meantime, Charlotte goes into next season with:
+ An incredible young backcourt of potential All-Stars Walker and Smart, a veteran playmaker in Sessions and a major prospect in Lamb.
+ Gerald Wallace 2.0 (MKG) improving at the 3 spot with a change of pace ballhandler/shooter in Delfino to back him up.
+ A real deal post presence slash double-double guy in Boozer with McRoberts as a solid backup at Power Forward.
+ One of the league's elite defensive centers (Perkins) mentoring a still young defensive prospect (Biyombo) with Haywood staying on as an emergency big.
+ Better protection on their 1st round pick owed to Chicago should Charlotte not make the Playoffs and a likely Lottery selection from Detroit still owed to them. They can use either of these picks on a young big to eventually replace Boozer/Perkins.
---
Part IV: The Final Step
Decide if Dunlap is the guy.
I don't know the specifics of Mike Dunlap's contract but it's doubtful someone at his experience level has any guaranteed money in year two. Dunlap has done his best and is obviously someone who works hard and loves the game but this franchise must decide if he's the leader this young squad needs or if the job is better left to a veteran coach like Jerry Sloan, Mike Brown, Nate McMillan or Stan Van Gundy: All of whom may find this much-improved Bobcats roster to be surprisingly enticing.
-ASChin
@baselinebuzz
Stay tuned for Rosterpalooza '13 Version 2.0 aka "The Re-sign Gerald Henderson Edition"