1. Pretty bad loss tonight, 101-83 to the visiting (and shorthanded) Pistons. AP story here, box score here. Of note, Jordan sat at the end of the Bobcats bench again; Bob Johnson was midcourt, front row.
2. Gotta comment on the Pistons big trade today. Although Hollinger says the Nuggets got the better end of the deal, I think it's just fine for the Pistons. With Rodney Stuckey and Amir Johnson ready to step up, the Pistons will hardly miss Chauncey and McDyess. They get an (admittedly expensive) rental in Iverson, and will have plenty of cap space for the summer of '09. And besides, it sounds like they aren't necessarily going to even have to miss McDyess, who will probably be waived and make his way back to the Pistons eventually.
3. Amir Johnson, in particular, was fantastic tonight. His line just shows 23 minutes, 12 points and 6 rebounds, but he was very key in destroying the Bobcats strategy of going small. He dominated Jared Dudley down low, grabbing several offensive rebounds over him. Overall, the Bobcats were outrebounded 42-31. So Sean May, I know we give you a hard time here at the Baseline, but we need you in there at the 4. Get in shape soon!
4. As you can tell by the box score, there were really no superstar performances tonight on either side. The Pistons simply played a very well-rounded game, getting out to an early lead and withstanding a 2nd quarter Bobcats run on the way to a pretty convincing victory.
5. Jason Richardson was nearly invisible tonight: just 4 points on 2-10 shooting in 33 minutes. I missed the first few minutes of the game, and by the time I realized Richardson only had 4 points, couldn't tell if the Pistons were keying on him defensively or if he was just off.
6. Shannon Brown is worth commenting on. He played 26 minutes, some at point and some at the 2, and led the team in scoring with 16 points. He also had 4 steals and 3 assists vs. no turnovers. Brown appears to have completely supplanted Matt Carroll in the rotation (another DNP-CD for Matt tonight) and is even stealing some minutes from Felton and Augustin. Brown was great in the aforementioned 2nd quarter run, helping the Bobcats to nearly pull even at halftime.
However, it was not all good for Brown. Though he's allegedly our designated defensive stopper, he got burned by Pistons' backup PG Will Bynum for layups on three straight possessions in the fourth quarter. One got the sense that the Pistons were just toying with the Bobcats at that point anyways, but those six points really put the game out of reach.
7. Also of note, after those six straight points by Bynum, Brown was pulled for Raymond Felton, who promptly gave up 2 turnovers, committed a personal foul, and let Bynum get by for his 4th layup of the quarter in less than 2 minutes. Felton was mercifully pulled in favor of Augustin at that point. Forgettable game for Raymond, who only logged 23 minutes total. We all know that he's quietly been placed on the trading block, and performances like tonight's don't exactly endear him to Coach Brown much.
8. Adam Morrison has been so devalued by most NBA pundits that he's basically become underrated. He continued his surprisingly decent early season play with a solid 4-6 shooting (2-2 from deep) and a couple of nice assists.
9. Recently, Henry at TrueHoop posted an inquiry about the "NBA All-Skinny Team" and got plenty of responses. However, Alexis Ajinca is nowhere in that list… and we here at Bobcats Baseline humbly submit that any conversation about an "All-Skinny" team begins and ends with Freedom Fries, himself: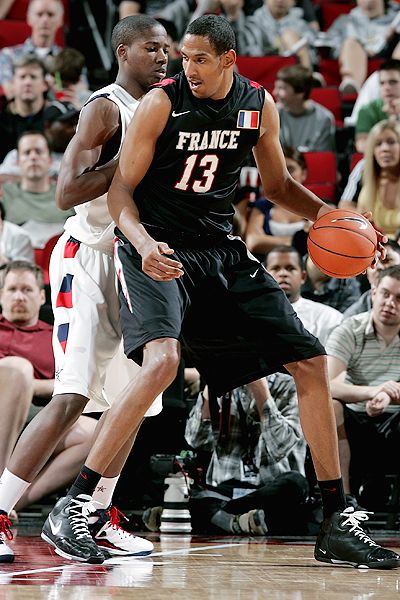 -E