Back in Version 1.0 of our offseason nerd-a-thon, we outlined a plan that would allow the Charlotte Bobcats to return to the ranks of competitive basketball next season while maintaining the team's committment to acquiring and developing young talent. But in order to execute that plan, the team would have to let one of their precious few assets walk via free agency. That asset's name is Gerald Henderson and he's played so well over the past two months that we had to dedicate an entire Rosterpalooza to him.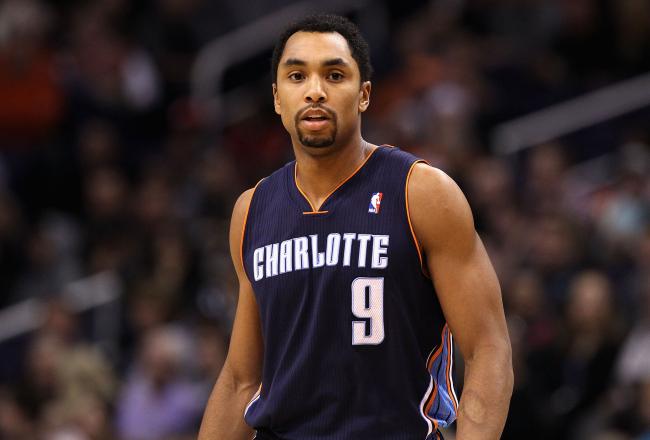 Rosterpalooza '13: Version 2.0 (The Hendo Edition)
Henderson isn't a Top 2 franchise guy and probably not even a Top 3. The real question is whether he's a 4th guy, the *uber* role player who, while not a star, is an integral piece of the team's identity – think Jeff Green, Wesley Matthews, Taj Gibson or Wilson Chandler.
The Bobcats must be certain that he's at that level because 4th Guys aren't cheap and the contracts that they sign ($7-$8 million annually) are notorious for being the riskiest and least "efficient" deals a front office can ink (*cough*, Tyrus Thomas *cough*).
Should Charlotte Re-Sign Gerald Henderson?
PROS: Efficient scorer (even on a terrible team), still young (26 entering next season), good rebounder, a complete two-way player, solid intangibles, potential leadership qualities.
CONS: Improved three point shooter but doesn't shoot enough to stretch the floor, not a primary scoring option, gives up too much size when matched against SFs (strictly a two guard).
With Shooting Guard currently the league's weakest position, Gerald couldn't have picked a better year to hit free agency. Henderson currently ranks 8th in the league amongst SGs in PER and is probably the best defender amongst the Top 10. With the likes of Arron Afflalo and Demar Derozan cashing in between $7 and $9 million annually, don't expect Gerald Junior to come at a discount just because he plays in obscurity.
RESULT: Charlotte re-signs Gerald Henderson, 4 years $30 million
Moving the Needle
With Henderson locked up and Kemba Walker still mid-rookie contract, the Cats retain a promising young backcourt. Ramon Sessions has played great on a value deal and still has one year left to go as the team's more than capable third guard. But those guys aren't the problem. Anyone who's had the (dis)pleasure of watching 70+ Bobcats games this season knows that if Charlotte is going to improve, they will need to upgrade the bigs.
The Bobcats rank a dismal 25th in points in the paint against, giving up an attrocious 103 points per game in total (league worst). Factors include: Mike Dunlap's wacky defensive rotations, Ben Gordon, dual point guard backcourts, Byron Mullens, etc. So yes, it's not entirely Bismack Biyombo's fault that Charlotte is a horrid defensive team. Both he and Josh McRoberts are active, capable on-ball defenders but they'll need help.
On the offensive side, the Bobcats' highest scoring big men, McRoberts and Mullens, average a whopping 18ppg in total – even worse is that the number is skewed high given that they've rarely played together in the same game. Outside of the seldom used/injured Brendan Haywood, none of the Bobcats bigs have a post game and, amazingly, none can serve as the dive man in the league's most basic play aka the pick and roll.
Part I: The Draft
In Version 1.0 we went the optimistic route, giving the Bobcats a Top 2 Lottery pick and their choice of Marcus Smart, Nerlens Noel or Ben McLemore. But given the league's Lottery history, Charlotte has just as good a shot to pick outside the Top 3 than in it. In Version 2.0, we'll assume the worst and have the Cats picking 4th.
With that pick, the team could shore up the middle with a project center like Maryland's Alex Len or trade down and nab a more polished but limited player like Cody Zeller. Or they could roll the dice on an undersized Power Forward from UNLV whose size, injury history and work ethic will likely red flag him outside the Top 3.
Anthony Bennett would instantly become the greatest Canadian player in Charlotte hoops history but outside of that, there are few guarantees. Will his 6'8″ height be offset by the huge wingspan? Will he work to develop a post game? Will he be able to stretch his perimeter shot to the NBA three point line? Are the injuries a fluke?
Ultimately, Bennett's upside as a dominant scorer at his position outweigh the risks at pick 4. Worst case scenario, he's Derrick Williams. Best case scenario, he's Paul Milsap. Either way, he's an upgrade.
RESULT: Charlotte drafts Anthony Bennett, PF UNLV
---
Part II: Free Agency
With Bennett drafted and Henderson re-signed, the Bobcats will need to add immediate help in the middle and some long range shooting via the open market. But first, as always, a little housekeeping…
Amnesty Tyrus Thomas
With the stroke of a pen, Michael Jordan rids himself of the last remaining stain of the Larry Brown era. Now that T-Time's $8 million salary is off the books, the front office can then use the cap space to…
Sign J.J. Hickson
What a dramatic improvement this will be, going from Tyrus Thomas to a player with similar athletic prowess, better size and a functional brain. Hickson might not have Tyrus's 18 foot range (YAY!) but he's everything else the Cats have needed in a big man and more: shot blocking, rebounding, solid post defense, an improving post game, BUT MOST IMPORTANTLY: Hickson is an OUTSTANDING FINISHER in the basket area. Bobcats fans (and players) will be amazed to see dunks, putbacks and the occassional pick and roll executed in the lane next season. He'll only be 25 when the season starts, has ties to the region and will form a nice big man combination with Biyombo and Bennett going forward.
RESULT: Charlotte signs J.J. Hickson, PF/C, 4 years $30 million
Stretch the Floor
The Bobcats have struggled to stretch the floor with long distance shooting, especially from the Small Forward position where rookie Michael Kidd-Gilchrist is still sorting out his mid-range game. Last time around we penciled in Carlos Defino as a potential solution. This time, we'll go with Washington's Martell Webster, a 26 year old bomber who's currently shooting a lights-out 42% from beyond the arc. Webster's never been a great defender but that's what MKG is for. As a 20 minute per game change of pace rain-maker, Martell could do wonders opening up the lane for Charlotte's drive-heavy guards.
RESULT: Charlotte signs Martell Webster, SF, 2 years $7.5 million
McBob
Josh McRoberts has been great and even after adding Hickson and Bennett, the Cats will still have enough in the tank to sign McBob to a reasonable contract as a utility big/fill-in starter.
RESULT: Charlotte re-signs Josh McRoberts, PF/C, 3 years $12 million (final year is a team option)
The Godfather Offer
Let's take a quick look the Bobcats' Depth Chart Heading into Training Camp:
PG: Kemba Walker, Ramon Sessions
SG: Gerald Henderson, Ben Gordon
SF: Michael Kidd-Gilchrist, Martell Webster, Jeffrey Taylor
PF: Anthony Bennett, Josh McRoberts
C: J.J. Hickson, Bismack Biyombo, Brendan Haywood
Now have a look at the salary chart. Notice anything odd? Yes, outside of Ben Gordon's expiring deal, every single player on the Bobcats' payroll can actually play! There's no dead money tied up in the Tyrus Thomases, Gana Diops and Reggie Williams of the world. It's like a real team all of a sudden.
Best yet, between Gordon's $13.2 million expiring and the (likely) THREE 2014 FIRST ROUND Draft Picks Charlotte owns, they will have set themselves up in perfect position should a superstar suddenly become available via trade. Who is going to turn down some sort of combination of a massive expiring, multiple picks and young prospects still on their rookie deals??? OKC and Orlando didn't get as much for James Harden or Dwight Howard. It's a Godfather offer you can't refuse just waiting for a STAR to become available.
---
Part III: The Final Step
Decide if Dunlap is the guy.
I'll say it again. If the Cats play their summer correctly, they'll suddenly have an appealling roster stocked with good young talent. Should Brian Shaw, Jerry Sloan, Mike Brown, Nate McMillan or Stan Van Gundy become intrigued, Charlotte will need to make certain that they have the right head coach to lead them to the next level.
-ASChin
@baselinebuzz
---
POLL : Should Bobcats Re-Sign Henderson
Yes, Absolutely! (41%, 116 Votes)
Let Him Walk (7%, 21 Votes)
For the Right Price (52%, 148 Votes)
Total Voters: 285
Loading ...